Two days, 700 attendees, more than 50 speakers, presenters and panelists — and thousands more viewing the live broadcast and webstream.
These are just some of the numbers behind the 2018 kidonomics Forum IEI hosted earlier this February—though the true story of the event lies in its people, both those on the stage and those in the seats.
Attendees from across North Carolina gathered in Raleigh Feb. 5-6 to hear speakers address the state's Early Childhood Development issues from a multitude of angles. Leaders like SAS co-founder and CEO Jim Goodnight spoke about NC business' role in early childhood development, while Dr. Jeanette Betancourt of Sesame Workshop, the nonprofit behind Sesame Street, talked about the brain science of early childhood trauma. In between, speakers representing all levels of government, commerce and education spoke about how to create better early childhood systems for all the state's children.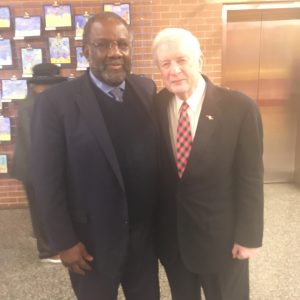 Day 1, held at the Raleigh Convention Center in downtown Raleigh, included a host of speakers and panelists who addressed topics like "Taking Action to Improve Early Literacy," "Family-Friendly Business Policies That Work," and "Health & Wellness: Lifelong Benefits & Long-Term Cost Savings." There was also a Leadership Dinner after Day 1 of the Forum held at Marbles Kids Museum. Ralph Smith, managing director of The Campaign for Grade-Level Reading, was a keynote speaker.
Day 2, held at IEI's headquarters in the James B. Hunt Library, delved deeper in the "Hows" of Day 1's "Whys" with a series of interactive workshops that looked deeper at how to fund, organize and implement early childhood programs.
Former Gov. James B. Hunt addressed the crowd both days of the Forum and Gov. Roy Cooper spoke at Day 1. To learn more about the event's other speakers, visit the Forum's 2018 Highlights and online agenda.
For more Forum perspectives:
Forum Highlights and Resources:
Miss out on a Forum speaker? Want to revisit a presentation or review a report you heard mentioned? Visit the Forum highlights and resources webpages for the below materials and more!
2018 Forum Highlights (Forum photostream NOW AVAILABLE!)
"Why Reading Matters and What to Do About It"
Family Forward NC – An innovative business initiative to improve children's health and well-being and keep North Carolina's businesses competitive.
Pathways to Grade-Level Reading
Webinar on "Choosing the Most Promising Early Literacy Interventions"
Blue Ribbon Commission Report on Findings
Sesame Street in Communities
Communication and Engagement Plan (template provided by Public Consulting Group)
Applications for kidsREADyNC (due by Mar. 9!)
Other Resources