IEI, in conjunction with BB&T and The BB&T Leadership Institute, hosted 16 Discovery Forum finalist teams from across the state in an intensive leadership development and networking retreat, designed to expand leadership and entrepreneurial skills, and provide networking opportunities. The weekend ended with a final pitch competition to a panel of 10 judges, with $15,000 in venture seed money awarded among the top three startup initiatives aimed at making their communities better places to live, work and play.
The top three winners are: 
First Place ($10,000 prize)
Fecal Finders (Mary Jaskowiak, Wilmington, NC): Mary's research led her to discover an affordable and effective method for testing water quality by using the same optical brighteners found in laundry detergent, with practical applications for a field toolkit to track and prevent the harmful spread of bacteria and viruses due to human waste leaks in natural waters.
Second Place ($3,000 prize)
Resilience Project (Jake Teitelbaum and Colt Mienke, Triad Area, NC): As a cancer survivor affected by the financial burden that comes with treating a major illness, Jake established the Resilience Project as a way to help others mitigate related health costs. Resilience works with financially disadvantaged patients with chronic illnesses to design and produce a pair of socks representative of their battle with chronic disease, and donates half of all net proceeds to the patient's treatment expenses.
Third Place ($2,000 prize)
Beyond Tutoring, LLC (Matthew McCall and Katie Thomas, Greenville, NC): Military veterans Matthew and Katie established the mobile academic tutoring company, Beyond Tutoring, in response to the unique challenges veterans face as non-traditional students returning to school to develop the necessary skills for re-entering the workforce. Their company trains and employs qualified tutors to assist both veteran and disadvantaged students in reaching academic success.
---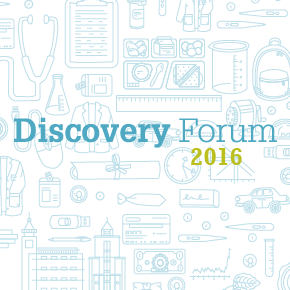 IEI has wrapped up the 2016 BB&T Discovery Forum series, and audiences from across the state have selected the winning entrepreneurial teams! Throughout the fall, we visited six regions across North Carolina, where teams of young (18-30) social entrepreneurs shared their visions for improving their communities—and our state—through social innovation.Ten teams from each of the six Discovery Forum cities pitched their ideas, and audiences selected the top three pitches from each city. These teams have been invited to the BB&T Leadership Symposium, to be held at NC State University in Raleigh in March, where they will spend a weekend networking and interacting with other entrepreneurs to refine their ideas and compete for a chance to win up to $10,000 toward their social enterprise.
Congratulations to all of the 2016 finalists!
2016 Discovery Forum Winners – Press Release
THE TRIANGLE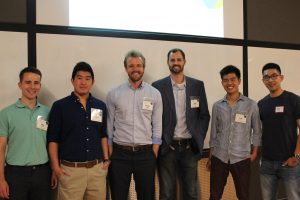 RECITY
Rob Shields, Tucker Stevens
SUPERVIZE
Sunny Su, John Willard
EMBRACE
Zach Ao, Andy Wang, Edward Liang, Thomas Li
WILMINGTON
FECAL FINDERS
Mary Jaskowiak
PK CLEAN
Joel Mauldin, Scott Davis
TURNIP LEARNING
Sarah Ritter, Andres Lulch
BOONE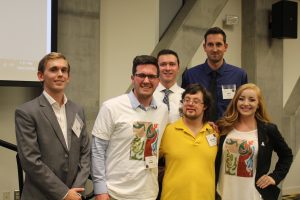 THE ABSURDITY OF POOPING IN POTABLE WATER
Emil De Jong, Kevin Burgess
CREATIVE UNBOUND
Ethan Downs, Sage Buccafurri, Mieszko Kwiatkowski
ROOTS
Matt Zothner
GREENVILLE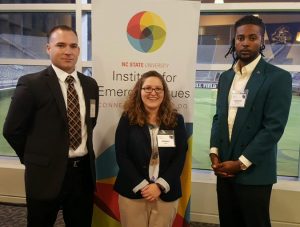 SYLLABEYE
Cameron Jennings, Mikal Chavez
TRACIT
Chelsey Solar
INFINITE LIMITS TUTORING
Matthew McCall, Katie Thomas, Brenda Vasquez, Magus Pereira
THE TRIAD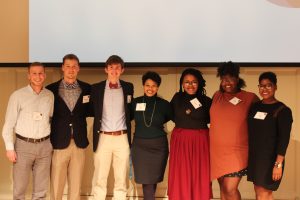 RESILIENCE PROJECT
Jacob Tietelbaum
GRPWRK
Ashley Johnson, Paris Williford, Brittney Isbell, Hali Shepard
FRESH FOOD HAVEN
David Deerin, Clay Barnett
HICKORY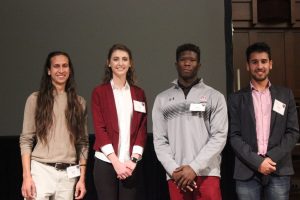 E.A.T.
Jwan Underwood
SOCIAL SUNDAY
Jerry Hamby, Ryan Hoffman
THE YARN TREE
Sarah Chase
---
WHAT ARE THE DISCOVERY FORUMS?
In 2011, the Institute for Emerging Issues and BB&T launched a new partnership to pursue one key objective: to inspire, support, and develop young social entrepreneurs and innovators across North Carolina. That year, IEI and BB&T hosted the inaugural Discovery Forum in Raleigh.
In 2015, IEI and BB&T expanded the Discovery Forum program to include events in Charlotte, Winston-Salem, Greenville, Boone, Wilmington, and Raleigh. More than two hundred young social entrepreneurs, each seeking to improve his or her community and our state, applied to make pitches about their projects. We selected ten for each Forum. Although applicants took up a wide range of community challenges, we did see some common themes: elimination of food waste, harnessing technology to improve education, utilizing music to engage youth, and upcycling digital devices.  At each event, the audience selected the top three pitches via popular vote.
Although we can easily tally applications, pitches, and audience attendance, it's impossible to adequately describe the spirit of service, engagement, and leadership that characterized our presenters. We enjoyed hosting out eighteen finalists — drawn from the mountains of North Carolina to our coast — at the culminating Leadership Symposium in April 2016.
WE INVITED THE PITCH COMPETITION WINNERS TO A SPECIAL LEADERSHIP SYMPOSIUM IN APRIL 2016. NOW ANNOUNCING: OUR GRAND PRIZE WINNER!
The weekend of April 15-17, 2016, the top three teams from each region joined IEI and BB&T for three days of immersive entrepreneurship and leadership training at NC State University's Hunt Library in Raleigh. Participants honed their pitch skills, learned about the nuts and bolts of establishing a business, and competed for a $10,000 prize to turn their social entrepreneurship vision into reality. Join us in congratulating our grand prize winner: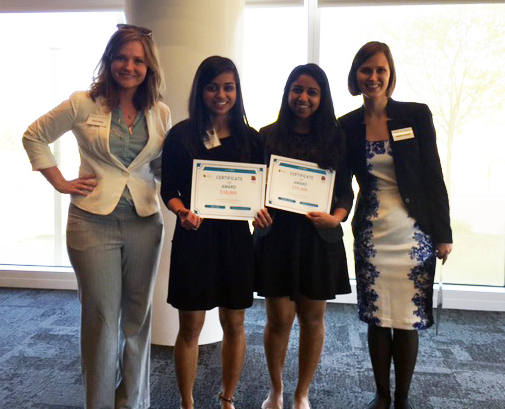 FreshSpire! FreshSpire partners with grocery stores so that consumers can get updated notifications on marked down perishables like meats, breads, dairy, and produce. They recover nutritious food that would otherwise end up in our landfills.
For more information, watch this video summary of our six 2015 Discovery Forums!