First in Future: Where Emerging Ideas Take Flight is a podcast of the Institute for Emerging Issues (IEI) at NC State University that connects you with people thinking big thoughts about the future of North Carolina. Each week, we talk with business leaders, elected officials, researchers, people working bottom up and top down to make North Carolina great. We hope you'll use their thinking to jumpstart your thinking about our state—where it is and where we might go together.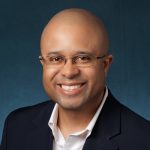 In this week's podcast, IEI Director Leslie Boney revisits a conversation with Read Charlotte Executive Director Munro Richardson, who wants to double the percentage of 3rd graders reading proficiently by 2025 in Charlotte.
IEI is getting ready to launch a new initiative, KidsReadyNC, in four communities across the state and wanted to hear Munro's thinking about the program. At the end of the reworked podcast, we have a NEW conversation with IEI's Assistant Director, Pat Cronin, who is heading up KidsReadyNC.
Listen to the podcast: