Due to the disruption caused by the pandemic to middle and high schools across North Carolina, we are suspending outreach efforts around TTF. The platform remains operational. Please contact Patrick Cronin at patrick_cronin@ncsu.edu or 919-513-3540 if further information is needed.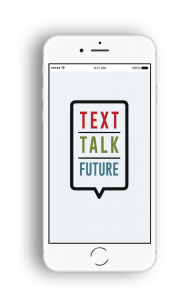 In today's world, young people need additional education or job training in order to have successful, productive lives following high school. By 2020, 67% of all jobs in NC will require postsecondary education and training (according to a study by the Georgetown University Center on Education and the Workforce). Currently, less than 50% of North Carolinians aged 25 to 44 have completed post-secondary degrees or nondegree credentials (according to myFutureNC). We want to help change that.
Text, Talk, Future is an initiative of the Institute for Emerging Issues at North Carolina State University. Using this text-based platform, small groups of students receive discussion questions to start the conversation about what's next after high school. Questions invite young people to share their interests and to identify their academic strengths. Texted questions also provide a chance for students to begin to think about what kind of career, education or job training they might want to seek following high school.
Who is this for?
Text, Talk, Future is best used by Career Development Coordinators and Career and Technical Educators in North Carolina's high schools.  Text, Talk, Future is an activity designed to get students thinking about their career options and corresponding postsecondary pathways. The activity involves a student-driven, peer-to-peer conversation that facilitates an exploration of students' strengths, interests, and career and postsecondary education or nondegree credential options. Students leave the conversation better equipped to have an informed discussion when it comes to creating their four-year plan. Text, Talk, Future comes with a complete lesson plan, including debrief questions and troubleshooting tips; access the lesson plan here ➔
How does it work?
Text, Talk, Future turns the cell phone from a classroom nuisance to a productive tool. Text Talk Future uses text messaging to facilitate a face-to-face conversation on potential career pathways. Students gather in small groups (3–4 people) with one cell phone per group. They text FUTURE to the number 89800 to receive a series of text messages that guide their group through a conversation on their future: exploring their interests, strengths, barriers, and assumptions as it relates to their career and post-secondary education options. Students engage with these ideas through videos, polling questions, and discussion questions throughout the Text Talk Future conversation.
---
THANK YOU TO OUR TEXT, TALK, FUTURE SPONSOR

---