Reconnect to Community: Resources
ReCONNECT

to Community

: Resources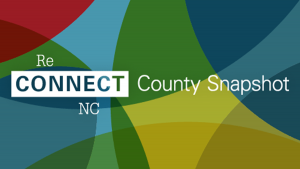 ReCONNECT County Snapshot
The ReCONNECT County Snapshot tool is designed to inspire community conversations and collaborations about sustaining and improving community connections. In addition to dashboard metrics, Snapshot includes a visualization to help communities "see" their strengths and challenges in each ReCONNECT NC focus area.
Community Conversation Summary
To ensure that the content presented at the statewide forum reflects the needs, ideas, and interests of the host region, IEI staff convened a series of meetings in Western North Carolina (WNC) in August 2018 to better understand the current state of civic engagement in the region and the barriers and opportunities to working together to solve key challenges.
The report highlights an extraordinary opportunity: to strengthen our communities, lift our statewide economy, and improve the bottom lines of businesses of every size by improving "civic health." In authoring the report, the Institute for Emerging Issues (IEI) extends its tradition of helping North Carolinians identify consensus strategies for enhancing our future economic prosperity.
Data Update on North Carolina's Civic Health