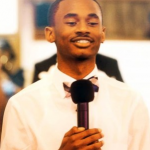 Summary: Martin Luther King Jr. once said: "Everybody can be great…because anybody can serve. You don't have to have a college degree to serve. You don't have to make your subject and verb agree to serve. You only need a heart full of grace. A soul generated by love."
This week's First in Future guest is Chris Suggs, the founder of the non-profit Kinston Teens. At the age 9 he organized a community cleanup campaign, at the age 14 started a nonprofit called Kinston Teens, then moved on to start a national organization for young black leaders, then was named to the Governor's Crime Commission. Listen and be inspired to hear what he has to say about the influence parents can have on their children, about working on the problems that present themselves right in front of you, and how much you can get done if you don't demand you get the credit.
This installment of First in Future is part of a special TV series produced in collaboration with UNC-TV, and is recorded in UNC-TV's Studios. Taped segments will air on the North Carolina Channel. Visit www.ncchannel.org/schedule/ for specific air dates.
Listen to the podcast: