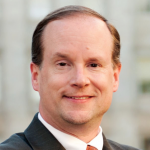 Summary: If you're looking for someone to give you a thorough political summary on the political history of North Carolina and where the Old North State stands in relation to its Southern neighbors, there's no better person than John Hood. Hood, president of the Raleigh-based John William Pope Foundation, can also give you a few good pointers on how to speak to people who might think a little differently than you, and how to do it without yelling.
The John William Pope foundation is a grantmaker that supports public policy organizations, educational institutions, arts and cultural programs, and humanitarian relief in North Carolina and beyond. Hood is also chairman of the board at the John Locke Foundation, a North Carolina think tank that issues reports, hosts events, produces broadcast programs, and publishes Carolina Journal, which serves an audience of nearly 150,000 North Carolinians through its print, online, and radio editions.
This installment of First in Future is part of a special TV series produced in collaboration with UNC-TV, and recorded in UNC-TV's Legislative Studio in downtown Raleigh. Taped segments will air on the North Carolina Channel. Visit www.ncchannel.org/schedule/ for specific air dates.
Excerpts:"You can't actually prove a theory true, that is not correct. That is not how science works, you can only prove it false. You can disprove it with an experiment, but three hundred experiments that are consistent with theory simply make it useful, but doesn't necessarily true. The three hundred and first experiment could disprove it."
Listen to the podcast: