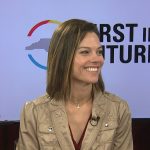 Summary: Over the 31 years of the Emerging Issue Forum, we have had CEOs, governors, and presidents as speakers. The first time ever, we have booked a red, furry monster – Elmo. This week's guest, Joy Potts, is accustomed to dressing up in a costume as the former Read-a-Roo for UNC-TV. She now has a bigger job as Director of Children's Media and Educational Services at UNC-TV.
This installment of First in Future is part of a special TV series produced in collaboration with UNC-TV, and recorded in UNC-TV's Legislative Studio in downtown Raleigh. Taped segments will air on the North Carolina Channel. Visit www.ncchannel.org/schedule/ for specific air dates.
Excerpts: "Rootle is a actual word and means to dig, which I loved because I wanted to provoke children to learn on a deeper level."
Book recommendations:   Superfudge by Judy Bloom
What key issues should we be working on within the next couple of years to make North Carolina a better place?"Work force development is key and I think that is exactly what Kidonomics is about and is really talking about that this starts at birth and providing kids with rich learning experiences before they enter school."
What do we need to focus on to be ready for the next 20 years?The marriage of both social emotional health and wellness.
Next great North Carolinian to watch? Nat Myers with the Malkuta Project.
Listen to the podcast: