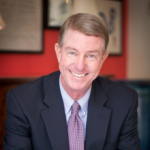 Summary:
If you were looking to identify a poster child for citizenship, you could do a lot worse than Kel Landis, co-founder and partner at Plexus Capital. As you'll hear today, he's done a little bit of everything — through a distinguished career as a North Carolina businessman and civic volunteer, and now, he's written a book on the importance of the word "do." It's all about us, our excuses, and how to get started making a difference. I think you'll find what Kel has to say pretty inspiring. As a bonus, along the way we'll talk about eighteenth century ministers, Eagle Scouts, Hurricane Matthew, Frank Sinatra, the most famous Michael Jordan quote ever, and a guy named Demetrius who may just transform our state.
This installment of First in Future is part of a special TV series produced in collaboration with UNC-TV, and recorded in UNC-TV's Legislative Studio in downtown Raleigh. Taped segments will air on the North Carolina Channel. Visit www.ncchannel.org/schedule/ for specific air dates. Watch the UNC-TV broadcast version via online streaming here!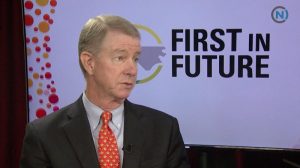 Excerpts: "The simple two-letter word "do" can be the most important and transformational word in our lives if we will live what it means. And it means that we wake up every day with a choice to do or not do what really matters in our lives."
Book recommendations:  True North by Bill George
What key issues should we be working on within the next couple of years to make North Carolina a better place?  Greater investments in education (pre-k, k-12 and higher education).
What do we need to focus on to be ready for the next 20 years? Creating a better bridge between rural and urban economic opportunities.
Next great North Carolinian to watch?  Demetrius Tillery, recent NC State University Graduate
Listen to the podcast: