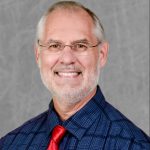 Summary:
A couple of years ago, the Institute for Emerging Issues took on a challenging topic: what will all of us be doing for work in twenty years? We called the Forum "FutureWork." The real answer is, of course, nobody knows. About the only thing we know is that things are changing really fast. But what happens next is NOT A QUESTION WE CAN IGNORE. To help us answer the question, we turned to NC State Professor Mike Walden, who may just be the state's best known economist – I call him the economic "explainer-in-chief." Join us as we talk robots, bricklaying machines, writing economic thrillers, the future of taxation, where education funding should go in the future, the best predictors of job success, and a new, possibly hopeful, future for liberal arts majors.
This installment of First in Future is part of a special TV series produced in collaboration with UNC-TV, and recorded in UNC-TV's Legislative Studio in downtown Raleigh. Taped segments will air on the North Carolina Channel. Visit www.ncchannel.org/schedule/ for specific air dates. Watch the UNC-TV broadcast version via online streaming here!
Excerpts:  "I'll be the first to admit, economics can be a very dry subject, and one of the things I've tried to do in my four decades [of teaching], is try to make it lively."
"I purposely picked 2050 [in his new book, "North Carolina Beyond the Connected Age: The Tar Heel State in 2050"] because if I'm alive in 2050, I'll be 99 – probably won't be alive, so if my forecasts are wrong, I won't be here to hear it!"
Book recommendations:  How Children Succeed, by Paul Tough
What key issues should we be working on within the next couple of years to make North Carolina a better place?   Healthcare
What do we need to focus on to be ready for the next 20 years?   How the job market is going to change due to technology, and how we'll help provide additional education/workforce training for people whose jobs disappear.
Listen to the podcast: