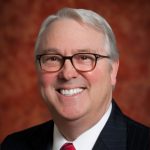 Summary:  Tomorrow, about 34,000 students, 2,300 faculty and 6,700 staff will run into each other at North Carolina State University, the start of another year for the state's largest university. Full disclosure – I work there, along with the staff of the Institute for Emerging Issues, and the start of every year is about as exciting as it gets. These are good times for NC State. This year's entering freshmen have the highest ACT and SAT scores ever. Last year's students graduated at the highest rate ever. Faculty at the university are winning more research grants than ever. And they rank #2 in the country on turning the stuff they discover into something of commercial value. Presiding over all that for the past seven years is Chancellor Randy Woodson, our guest interview this week. If you're a leader of an enterprise, large or small, I hope you'll appreciate his thoughts on the importance of saying "no." We also talk about the grand challenges of the world, what he calls "cluster hires," what universities are learning from industry, the biggest challenges our state is facing, and why North Carolina is like a Belgian beer.
This installment of First in Future is part of a special TV series produced in collaboration with UNC-TV, and recorded in UNC-TV's Legislative Studio in downtown Raleigh. Taped segments will air on the North Carolina Channel. Visit www.ncchannel.org/schedule/ for specific air dates. Watch the UNC-TV broadcast version via online streaming here!
Excerpts:   "As education always does, it opened up tremendous opportunities and doors for me that led me to a number of places. I'm always attracted to the mission of the land-grant of our country. Every state has one, and NC State is among the best in the country."
Book recommendations:  New York: The Novel, by Edward Rutherford
What do we need to be working on now to make North Carolina a better place to live and work?   Bridging the Urban-Rural Divide.
What do we need to be doing now to get ready for the next 20 years?  Address the rapidly growing population within NC as it relates to infrastructure, services and academic opportunities.
Listen to the podcast: