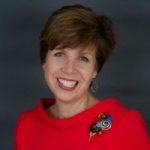 Summary:  Why is it that anybody gives something to someone else? Today's guest, Jennifer Tolle Whiteside, has asked herself that question more than maybe anyone else in North Carolina. As president and CEO of the North Carolina Community Foundation, she talks every day with people who are setting up funds in their communities to do something useful. Across the state, a group of community foundations takes the bureaucracy out of giving. By giving through a community foundation, someone else handles the administrative details so you get to focus on what you want your money to be used for. Join us as we talk about beekeepers and books, economic mobility and the nobility of a cafeteria worker, and about what people get from giving.
This installment of First in Future is part of a special TV series produced in collaboration with UNC-TV, and recorded in UNC-TV's Legislative Studio in downtown Raleigh. Taped segments will air on the North Carolina Channel. Visit www.ncchannel.org/schedule/ for specific air dates.
Excerpts:   "A community foundation is really a vehicle—for individuals, families, organizations, businesses—to pool their charitable resources, people who care about a community, to be able to make a difference in the future."
Book recommendations:   The Soul of Money, by Lynne Twist
What do we need to be working on now to make North Carolina a better place to live and work?   Building and strengthening communities; bridging the conversation between "have and have-not's."
What do we need to be doing now to get ready for the next 20 years?   Focus on expanding economic mobility.
Listen to the podcast: