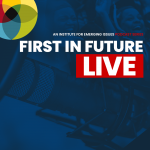 Summary: In this episode, we focus on "Where Are The Workers" with guest host Sarah Hall, Senior Policy and Programs Manager; Andrew Berger-Gross, NC Department of Commerce, LEAD Division; Barbara Brothers, Business Engagement Director, Capital Area Workforce Board; Trey Goodson, Marketing Director, NC East Alliance. They discuss the "the most difficult hiring environment for employers in a generation or more and the most promising labor market for jobseekers in recent memory."
Join us at 9:00am Tuesday December 7th for our next First in Future Live! show featured on YouTube, LinkedIn and Facebook live!
Find us on Apple Podcasts, Spotify, Google Podcasts, Amazon Music, iHeartRadio, TuneIn + Alexa and Pocket Casts.