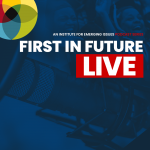 Summary: In this episode, we focus on "What NC Can Do About Hunger" with guests Shevani Metha, Hunt Intern and NCSU Senior; Ron Dumas, UNC-Asheville and Ronnie Smith, past President of NCACC and Martin County Commissioner. They discuss the work of IEI's Pilot 21 focus on hunger.
Join us at 9:00am Tuesday November 23rd for our next First in Future Live! show on "The Future of Telehealth" featured on YouTube, LinkedIn and Facebook live!
Find us on Apple Podcasts, Spotify, Google Podcasts, Amazon Music, iHeartRadio, TuneIn + Alexa and Pocket Casts.