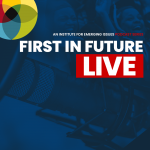 Summary: In this episode, we focus on "Mental Health Reaches Critical Mass" with guests Chris Suggs, Founder Kinston Teens and Dr. Nora Dennis, Director, Behavioral Health, BCBSNC. They discuss making progress on mental health challenges.
Join us at 9:00am Tuesday November 9th for our next First in Future Live! show on "The Future of Telehealth" featured on YouTube, LinkedIn and Facebook live!
Find us on Apple Podcasts, Spotify, Google Podcasts, Amazon Music, iHeartRadio, TuneIn + Alexa and Pocket Casts.