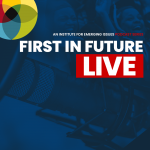 Summary: In this episode, we focus on "The Future of Telehealth" with guest host Maggie Woods – IEI Policy and Program Manager and BAND-NC Program Director and guests Kim Schwartz – CEO of Roanoke Chowan Community Health Center, NC Representative Donny Lambeth and Dr. Sebastian Gimenez of the DHHS Office of Rural Health .  
Join us at 9:00am Tuesday October 26th for our next First in Future Live! show on "The Future of Telehealth" featured on YouTube, LinkedIn and Facebook live!
Find us on Apple Podcasts, Spotify, Google Podcasts, Amazon Music, iHeartRadio, TuneIn + Alexa and Pocket Casts.
Listen to the podcast: