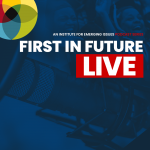 Summary: In this episode, we focus on "How Churches & Faith Organizations are Recovering" with guests Kylie Foley, IEI Rural Faith Coordinator; Rev. Kimberly Clarke Turner, Pastor, Triad Native American UMC and director, Institute for Early Career Clergy Development, Hood Seminary; and Rev. Andy James, Director of Small Church Ministries and Technology, New Hope Presbyterian. 
Find this also on Facebook, LinkedIn or YouTube, as well as Apple Podcasts, Amazon Music, iHeart Radio, and TuneIn+Alexa.
Join us at 9:00am Tuesday October 12th for our next First in Future Live! show on "The Future of Telehealth" featured on YouTube, LinkedIn and Facebook live!
Find us on Apple Podcasts, Spotify, Google Podcasts, Amazon Music, iHeartRadio, TuneIn + Alexa and Pocket Casts.
Listen to the podcast: