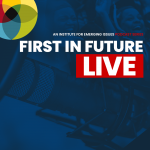 Summary: In this episode, we focus on "After the Flood Waters Recede" with guests Jim Fox, former Director of NEMAC; Mayor Zeb Smathers of Canton NC; Jeff Howell, Yancey EMC; and NC House of Representatives Majority Leader, John Bell.
Find this also on Facebook, LinkedIn or YouTube, as well as Apple Podcasts, Amazon Music, iHeart Radio, and TuneIn+Alexa.
Join us at 9:00am Tuesday September 28th for our next First in Future Live! show featured on YouTube, LinkedIn and Facebook live!
Find us on Apple Podcasts, Spotify, Google Podcasts, Amazon Music, iHeartRadio, TuneIn + Alexa and Pocket Casts.
Listen to the podcast: