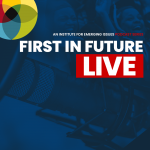 Summary: In this episode, we focus on the "Power of Local Support of Educational Attainment" with guests Dale Jenkins, former CEO Curi and co-chair, myFutureNC Commission; Dr. Laura Leatherwood, President Blue Ridge Community College; Rev. James Gailliard, Senior Pastor Word Tabernacle and member, NC House of Representatives.

Join us at 9:00am Tuesday September 14th for our next First in Future Live! show featured on YouTube, LinkedIn and Facebook live!
Find us on Apple Podcasts, Spotify, Google Podcasts, Amazon Music, iHeartRadio, TuneIn + Alexa and Pocket Casts.
Listen to the podcast: