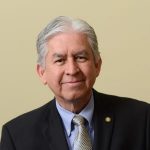 Summary: Twenty years ago, three Latino couples, made up of an engineer, a scientist, an IT professional and three teachers, took a look at what was going on with Latino education in the state, and didn't like what they saw. About half of the students were dropping out of high school and they saw that was going to cause big problems for them, and the state.
That is when this episode's First in Future guest Marco Zarate, his wife and others stepped up and assisted in forming the North Carolina Society of Hispanic Professionals, a nonprofit focused on "promoting education among Hispanic youth," with a special focus on increasing high school graduation rates.
North Carolina Society of Hispanic Professionals have raised corporate contributions, brought in members and volunteers, and through it all Marco has stayed with the organization.
Next Tuesday at 10:00am we are going to convert First in Future to a live format show featured on YouTube and Facebook live!
Listen to the podcast: