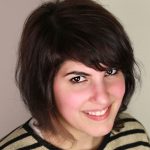 Summary:   For most of us listening, becoming a citizen was an involuntary act—we were born here, so we were citizens. But, for about 750,000 people per year, becoming a United States citizen is a choice. They wait, they apply, they study, they take a test—and, only if they pass do they get in.  Mor Aframian moved from Israel to Charlotte with her family as a child. She went to NC State University; got a bachelor's and master's degrees; started two companies; and then, she had a choice. Where did she belong? Did she want to be a citizen here? She chose the U.S. and North Carolina. On this Fourth of July episode, I think you'll be interested in why she chose the U.S., how stressful an hard the citizenship test is, what it felt like to vote for the first time, and how this citizen "thing" is going for her, five years in. (Image courtesy of Side Yard Studios.)
Excerpts:
"Through my Jewish upbringing, one of the major concepts that really guided me is "tikkun olam" which means, literally, to fix the world…Tikkun olam definitely was my compass, and that guided me to take action…"
"I have failed. I am sure I'm going to fail in the future…and that's okay. There's something that can be learned from it, or a reason to laugh—whatever it is—but, being afraid of failure isn't a good enough reason not to do something."
Book recommendations:  Overdressed, Elizabeth L. Cline
What about living in North Carolina do you think is special?  The arts—everything from music to ceramics to fashion to innovation.
Major issue NC needs to address in the short term?  Connecting our rural and metropolitan communities, and ensuring rural North Carolina has access to the resources they need to be successful.
What do we need to be doing in the next 20 years to get ready?   Looking at how we're going to make North Carolina more resilient for environmental changes.
What yoga pose should North Carolina practice to prepare for the future?  The Tree Pose – being grounded, feeling balanced, waving hands in air, one with nature.
This installment is part of a special 13-segment series produced in collaboration with UNC-TV, and recorded in UNC-TV's Legislative Studio in downtown Raleigh. We are excited to share the First in Future podcast via traditional means and via taped segments to air on the North Carolina Channel! Check back soon for specific air dates.
Listen to the podcast: