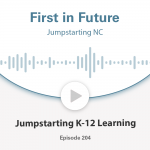 Summary: Leslie Boney, Director of the Institute for Emerging Issues, hosts a series of virtual conversations discussing the impacts of coronavirus (COVID-19) and some of the ways our state is responding. As we begin to reopen the economy, we start a series called Jumpstarting NC. Each week we'll be talking with those responsible for jumpstarting critical parts of North Carolina.
Join us for this episode (Jumpstarting K-12 Learning) with guests Dr. Evan Lefsky (Director of Education Consulting, Public Consulting Group), Dr. Lynn Moody (Superintendent, Rowan-Salisbury Schools), Dr. Steve Ellis (Superintendent, Nash-Rocky Mount Schools) and Amy Jones (VP Leadership, Wake PTA Council).
*This episode of First in Future was recorded on Thursday, July 2nd, and reflects information that was up-to-date at that time.*
View the slides here.
Listen to the podcast or Watch Zoom Video
Highlights & Resources
Context:
Strong Schools NC Public Health Toolkit (K-12)
Lighting Our Way Forward: NC's Guidebook for Reopening Public Schools
Governor's decision has been delayed (as of 7/2)
How would you categorize perspectives as people sort through the challenge of reopening schools?
Dr. Evan Lefsky: Majority of school districts, state/local agencies and governor's offices that we partner with have focused on equitable access to broadband and devices. But solving that won't guarantee equitable access to high-quality instruction or outcomes for all children. When schools choose to reopen (whether it's fully in-person, blended or virtual), what's needed is a comprehensive approach with supports for students, teachers and families—professional learning for teachers, digital curriculum & instructional materials, and support for students who struggle with virtual learning (especially those with special needs and those learning English).
How are you sorting through this as a superintendent?
Dr. Lynn Moody: We're doing 3x the amount of work we normally do in the summer in preparing for the 3 options for reopening. Teams are working hard and we've had great conversations about how it will look. We all value education and we all want to get back to school and reconnect with our students.
How are you balancing this time?
Dr. Steve Ellis: Toughest part is you're trying to fly this plane with 3 different models. Put safety of the kids first. Our job is to educate students. There are fragile kids out there right now we need to reach.
As a parent, how are you planning for the fall?
Amy Jones: I have a rising 11th grader and 7th grader. It's challenging, they want to know what's going to happen. Kids need a certain amount of predictability to feel safe and comfortable. We're letting them know day to day it's going to be fine, we're going to figure it out, but it's going to look really different. Parents are anxious to find out so they can figure out child care, but it's been a wait-and-see game this summer. 
What are you hearing from other parents?
Amy Jones: Statistics reflect what we've heard from parents – split between wanting and not wanting kids to go back. There's no one size fits all answer that's going to work for everyone. We're working towards the least bad situation. Heard resoundingly from parents appreciation of teachers, concern about the larger community and more challenged populations, and variety of opinion based on where you are in the state. 
Challenge of working parents to figure out working vs. child care:
Amy Jones: It's a lot to figure out. Wake County is talking with partner agencies to assist in child care if we go to a blended Plan B model.
How are you sorting through the vast differences in opinion?
Dr. Lynn Moody: The polls haven't reached everyone. Not sure who will show up for work in the fall, no matter what plan is called. There's no real clear answers; we're working to figure out how to give everyone their own learning preference.
Could there be a high flex option where some are learning differently… how would that work?
Dr. Lynn Moody: We're opening a K-8 virtual school. Our high schools have had virtual options for several years. But it's different when you go remote every single day. It was a huge learning curve for us even though we had practice in remote learning. It requires a different kind of professional development and a lot more work, especially for lower grades. 
Rowan-Salisbury working groups:
Dr. Lynn Moody: All of the administrators in our district are working 8-10 hours a day in one or more of the working groups—resources, operations, safety, professional development, etc. to problem-solve in all the areas.
How did you figure out online learning early on?
Dr. Steve Ellis: 30% of our population didn't have internet, so we went back to learning packets. We'll provide a menu of options for parents, but there will be that 20-30% that we have to figure out how to reach. Keep getting counselors and teachers to call students. Kids aren't getting social/emotional part. 
Learning loss: any reassurances you can give to parents?
Dr. Steve Ellis: The longer we wait, the gaps are widening. "When we put laptops in a kindergarten and second grader's possession for them to learn how to do school, I don't know how successful we're going to be at that." That personal connection we're losing right now concerns me. There has to be a plan to bring back those at-risk students to start decreasing that gap.
Dr. Lynn Moody: When we first saw Plans A, B and C, we thought we'd want anything but B, but now we want anything but C. We need to see our kids, even just 1 or 2 days a week. There are kids we physically need to see. "We know that there will be families who choose to go completely remote, and we honor that. But for the most part, we believe that children really need, and our teachers want, some time, even if we can't have a full week with them."
What are you seeing nationally that encourages you?
Dr. Evan Lefsky: Seeing school districts leverage virtual tutoring to support students who are at-risk or with disabilities. Seeing parents be a part of the tutoring/education process. Department of Public Instruction NC is providing an early warning system for all NC districts to ensure students are staying on track for success and helping them put success plans in place when they require additional supports.
What are the biggest issues schools need to figure out if we're meeting face-to-face?
Dr. Evan Lefsky: Social distancing (may require physical modifications in schools), screening for illness, transportation will be challenging. Choosing an approach: phased reopening, staggered schedules; CDC is recommending a bubble approach (students stay with the same group the whole day, limiting potential exposure). Each approach comes with challenges for families having to manage when kids are/aren't in school. 
How do you coordinate with business community?
Dr. Steve Ellis: A good first step for us is to provide a map of places in the community where families can access wifi so if kids can't go to schools, that's another option.
Are communities working with chambers and Smart Start to manage employer expectations?
Dr. Lynn Moody: We're all working closely with business community. It's become apparent that our economic well-being depends on the custodial function of schools. You can see the conflict during a time like this. There are a lot of silver linings though. Our schools were not perfect when things were "normal." Now we have an opportunity to be more learner-centered. While standardized testing is off the table, rules and regulations aren't haunting us as we plan for the fall. We get to create something that unleashes the potential of every child.
Amy Jones: From a parent perspective, I've tried to concentrate on positives with my kids.  What are you learning – resiliency, technical skills, creativity, intentionality about enrichment. 
What do you see coming out of this that might make education better?
Dr. Evan Lefsky: Many are realizing there's flexibility and cost savings in digital. One benefit is the opportunity to improve it to the unique needs of students and be responsive as the needs change, which you can't do with printed textbooks. In K-12, traditional methods of awarding credit are about seat time. We have an opportunity to move to more accurate ways of measuring learning, like competency-based models, which could improve education for all students.
Any closing encouragement?
Dr. Steve Ellis: It's going to be fine. We're going to put the students first. Students are going to own their education now. We'll come out of this better. Kids will have more options. Parents will appreciate us more because we'll think outside the box now that we're allowed to.