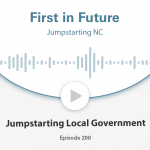 Summary: Leslie Boney, Director of the Institute for Emerging Issues, hosts a series of virtual conversations discussing the impacts of coronavirus (COVID-19) and some of the ways our state is responding. As we begin to reopen the economy, we start a series called Jumpstarting NC. Each week we'll be talking with those responsible for jumpstarting critical parts of North Carolina.
Join us for this episode (Jumpstarting Local Government) with guests Avril Pinder (Buncombe County Manager), Paige Worsham (NC Association of County Commissioners), and Gloristine Brown (Mayor of Bethel and Chair, NC Mayors Association).
*This episode of First in Future was recorded on Thursday, June 18th, and reflects information that was up-to-date at that time.*
View the slides here.
Listen to the podcast or Watch Zoom Video
Highlights & Resources
Why has preparing this year's budget been so hard?
Avril Pinder: This year's budget was like none other in my 25 years in local government. We've seen a huge decrease in sales tax and property tax revenues, which are the largest revenue sources for our general fund revenue. Going into next year is uncertain. We were extremely conservative in planning. 
What's it been like for you planning for this next year?
Gloristine Brown: When the pandemic hit, all ideas went out the window. We don't know where we'll be on sales tax or utility revenue, but that will impact us. 
Big picture view – functions of local government:
Paige Worsham: Spans wide range of things that are visible and not as apparent – power, roads, local health departments, social services, public safety, law enforcement, trash pickup, animal control, airport authority, libraries. Things that are intertwined with everyday life and you expect them to be there. They're going to be impacted by revenue challenges.
Revenue sources – what are they, why are they challenged?
Paige Worsham: Four main sources that are going to be impacted by the public health crisis are:
sales tax (expected to see the largest impact – people aren't shopping, traveling – will impact budgets at both local and state government levels)

property tax (won't see this impact for a while)

occupancy tax (hotels, airbnbs – significant revenue source that will be impacted because people aren't traveling)

utility revenue (executive order that prohibits local governments from disconnecting utility customers for nonpayment – local governments are covering that cost)
How are counties responding to budget uncertainty?
Paige Worsham: Local governments and the state are required to balance their budgets. If you're bringing in fewer revenues or don't know your revenue situation but know it will be impacted, then you have to spend less money. Local governments are conservatively budgeting. Workforce impacts – hiring freezes, furloughs. Freeze on big expenditures, projects. 
From Buncombe County's perspective: hardest decision you had to make to get the budget passed?
Avril Pinder: Made a commitment to staff – no furloughs or layoffs. Once we made that commitment, it was freeing knowing I couldn't touch that one expenditure source. Staff stepped in to see how we could deliver services differently (i.e. repurpose staff or staff take on dual roles to cut back on those expenses). Started One Buncombe fund – soliciting donations to provide funds to help the economy.
Will the One Buncombe fund model grow in the future? Or is it just for a crisis?
Avril Pinder: We had the Buncombe Service Foundation (nonprofit) where people could apply for aid. Scaled it up for this emergency and helped other counties around us to set up their own similar nonprofits. It's not something we're going to stop because it's been so successful. Small businesses are the backbone of our economy in Buncombe so we're striving to keep them working.
Relief from CARES act to counties and cities of a certain size – some relief coming from federal government through the state. In Bethel, why is that funding important to you?
Gloristine Brown: It's really important. We were disappointed municipalities weren't included. The county dispersed some money, but they have discretion about whether to share with municipalities. A lot of towns, especially smaller towns, if we don't get any help, there will be cuts.
Looking at efficiencies?
Gloristine Brown: Hopefully merging with Greenville utilities. As a small community, we realized we can't keep taking on loans. Regionalization is going to be the key for a lot of small towns. You have to look at population – can't keep increasing the rates. 
People see this order coming out saying you can't be penalized if you don't pay utilities – how do you deal with that?
Gloristine Brown: It's hard explaining to citizens. if you're not able to pay the full amount, just pay something. When the order is over, the municipalities have the right to discontinue service because of nonpayment. It's been hard to educate citizens and help them to understand how the municipality is being affected by the pandemic.
Is fundraising a potential solution?
Gloristine Brown: Don't know how that process works, but it sounds like a good thing and I hope it'll work the way it's intended to work. That would help us out a lot.
Solutions for budgets?
Paige Worsham: Creativity will need to continue. Local governments are going to have to reassess several months down the line – may have to do some significant budget amendments after seeing the numbers in the fall. This year and for the next few years, it's going to be a continuing process to figure things out. Local governments are going to continue working with small businesses, nonprofits, taxpayers on utility and rent assistance and work within the parameters of funds they're given.
Advice over the next few months to counties as they're waiting for budget info?
Paige Worsham: By nature of what local governments do, they're trying to be very comprehensive and cautious. Out of necessity, decisions are being made to most correctly spend and allocate money we may be getting from federal & state governments and other sources. 
Can you reassure us that cities and towns will be there for us?
Gloristine Brown: Hoping that will happen. I ask my colleagues to think smart, do some things we don't want to do. Asking everyone to continue asking for help for municipalities. Thankful for nonprofits helping out. Don't forget your census – those are dollars that can come back to our community.