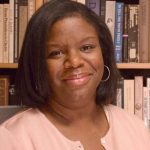 Summary: In August, the New York Times Magazine launched a project designed to try to understand the consequences of a system they traced back to 1619. That's when the first group of people enslaved by British merchants were unloaded from a boat in Point Comfort, Virginia.
The "1619 Project" looks at how that decision impacts health care, housing, jobs, wealth and music today.
That is why we need historians like NC State's Dr. Blair Kelley, this week's First in Future guest. Dr. Kelley helps us understand what happened, the extent to which the consequences of slavery still plague us, and the progress we've made.
Listen to the podcast: