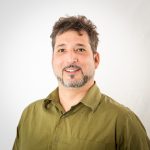 Summary: Poets can sometimes tell us something we haven't thought of before, force us to confront a truth we'd rather avoid or help us see something in a way we hadn't seen it. We wondered what would happen if a poet came to our most recent Institute for Emerging Issues forum on digital inclusion and turned some of what he heard into poetry.
We invited Chris Vitiello, "the Poetry Fox," to do just this and he is our First in Future guest for the second of two episodes.
This episode we are letting him share some of the remarkable poems he created at our Emerging Issues Forum, ReCONNECT to Technological Opportunity, to do a little showcase about what it means to have a poet's eye and ear listening in on a discussion of public policy.
Read the Poetry Fox's poems from the ReCONNECT to Technological Opportunity breakout sessions here.
Listen to the podcast: