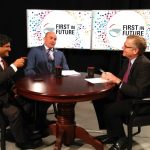 Summary: Research shows that more than half of us don't seek out people whose views are different from ours and we are nearly four times as likely to ignore information that doesn't support our pre-existing views. If we want better solutions to public policy challenges we face, we would consciously seek out people whose views are different than are own.
The Institute for Emerging Issues is launching a project called "Civic Conversations" where we are trying to change that conversation issue. Last week on First in Future, we talked about one part of the project, a call for communities across the state to convene conversations where they bring together people across lines of race or class or political party to try to get new ideas about big problems facing their communities.
This week First in Future wanted to tell you about another part of the project, one that is bringing together state political leaders from across the state.  On this week's episode we highlight a past interview with Republican State Senator Danny Earl Britt and Democratic Senator Jay Chaudhuri, in which they talked about how they have learned to have civil conversations with each other, take each other seriously, treat each other as human beings, and are starting to learn something from each other.
For more information on our Civic Conversations effort, please go to our website, emergingissues.org.
Listen to the podcast: