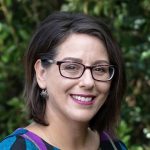 Summary: The growing economy is causing business challenges across the state as communities scramble to attract talented people from other places to work there, and to make sure the people who grow up there have the skills they need to do the work that needs to be done.
The Statesville Chamber of Commerce surveyed its members last year and the members told them the same thing a lot of businesses all across the state are saying, please help us find great employees.
Chambers, like any organization, need to grow and adapt in a digital age, but this week's First in Future guest, Statesville Chamber of Commerce president Shannon Viera, says that what shouldn't change is their efforts to bring people together for the kind of face to face, spontaneous conversations and discoveries that you wouldn't get if you just interacted digitally or online.
Listen to the podcast: