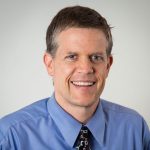 Summary: There was a recent description of a modern librarian as "equal parts caregiver, local hero and geek squad member." So the way we learn and access information is changing and you may not be aware of what is happening at your local library to accomplish this task.
The change means that this week's First in Future guest, Greg Raschke, NC State's Senior Vice Provost and Director of Libraries, needed to adapt, as well as every library and librarian.
We now have more access to information than any people at any time in the history of the world and the amount of information we can access is doubling about every 18 months. The real questions we have to figure out now are how we find what we need to know when we need to know it, and how we make sense of it.
Librarians may just be our secret weapon. So hug your librarian today, and then ask them for help.
Listen to the podcast: