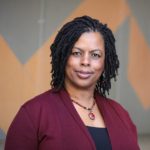 Summary: Rural areas can not get enough quality housing built. Urban areas have trouble finding land affordable enough in neighborhoods safe enough. An easy solution from a price point is to locate housing on the cheapest land possible, but studies have shown that creating neighborhoods that blend people of different incomes leads to better results for lower income people.
This week's First in Future guest, Yvette Holmes is the Vice President for Resource Development and Partnerships at DHIC, a Triangle based nonprofit that supports individuals, families, and seniors by providing homes and opportunities that promote the financial, physical, and mental well-being of people and communities. Yvette has been advocating for and building affordable housing for more than 40 years.
This week we talk about the "why" of affordable housing and when she first discovered that she had grown up in "affordable housing". Next week we will learn about some bigger issues and why she does the work that she does.
Listen to the podcast: