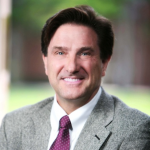 Summary: This week's First in Future guest, John Chaffee has a lifetime of stories about recruiting outside companies to relocate in eastern North Carolina. That's what any economic developer does.
He is the president and CEO of the NC East Alliance, a nonprofit representing 28 counties in the central east and northeastern parts of the state and he spends a good portion of his time these days focused on some unique challenges to Eastern North Carolina.
Some challenges he faces has gotten him much closer to the world of what is called "workforce development" – working with schools and colleges and companies to make sure folks have the skills and abilities they need to compete for today's jobs. And he has to figure out a way to do it across a big swath of counties with different challenges, different assets and different histories. If the North Carolina East Alliance does its work, a whole generation of people from eastern North Carolina will rise up and lead the region into a new prosperity. And if the people are ready, the economic development side of things will take care of itself.
Listen to the podcast: