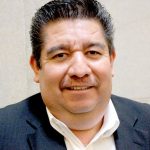 Summary: In 1980, Juvencio Rocha Peralta became frustrated by the job opportunities in Veracruz Mexico, a town of about 500 people, so he took a big chance. At the age of 16, he moved to Duplin County, where he worked in agriculture. He wanted more, so he started studying and eventually moved into a new career. He came to love this area, set down roots, and in 1986, became a citizen.
This week's First in Future guest, Juvencio Rocha Peralta, is the Executive Director of AMEXCAN (The Association of Mexicans in North Carolina), an agency that tries to do two different things: help Mexicans and other members of the LatinX community figure out how to be fully-participating members of the towns they live in, and also to help the long-time members of their communities appreciate the importance of the new residents.
On today's show we talk with Juvencio about his AMEXCAN work, and his pathway from working in the fields to being recognized as part of the Academy of Community Engaged Scholars. We hear his thoughts on current immigration policy and some critical health care challenges the LatinX community is facing.
Listen to the podcast: