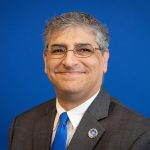 Summary: As part of our ReCONNECT NC series, the Institute for Emerging Issues is identifying groups of communities where something remarkable is happening. The challenge for all of the communities is working on civic participation with people who have lost a sense of working across boundaries.
This week's First in Future guest is Russ Haddad, the Director of Community and Economic Engagement at Elizabeth City State University, and he is heading up the Viking Volunteer Corps, which is one of the programs within our ReCONNECT NC series community cohort. The Viking Volunteer Corps is focused on getting students and employees of Elizabeth City State University excited about volunteer service opportunities that allow them to give back to their community.
We learn from Russ about the responsibility that a university has to be part of the community it serves, the importance of asset-based community development, and why students are so excited about their work in the community.
Listen to the podcast: