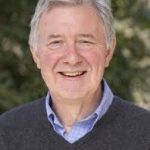 Summary: None of us exists as islands and as individuals we depend on friends and family, but also on a range of people we don't know. The same goes for the units we live in, our neighborhoods and counties exist in regions, and our success or failure depends on their success or failure. Figuring out how to balance our individual autonomy with our collective responsibility requires one of the ongoing pieces of work we need to do as part of this state and this country.
This week's First in Future guest has come to that conclusion after a few decades, crossing two countries and four states, working in local government, nonprofit think tanks and universities. Brian Dabson with the University of North Carolina School of Government, has headed up two national nonprofits, The Corporation for Enterprise Development (now called Prosperity Now) is the nation's leading organization on helping Americans save and accumulate wealth more effectively and The Rural Policy Research Institute, the nation's leading think tank on rural policy. 
In this Podcast we hear his thoughts about the interdependencies of rural and urban, relocating state government services out of Raleigh, and the new social contract. Brian will be one of the speakers at the Institute for Emerging Issues February 11 Forum called Reconnect Rural and Urban, and to learn more, please visit emergingissues.org.
Listen to the podcast: