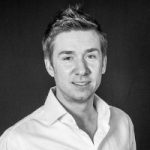 Summary:
The old joke about economic developers is that they like to be buffalo hunters; they are always looking for a giant beast of a company that they can drag back and use to feed the entire community. But these days the buffaloes are rare. There are a lot more economic developers out there than gigantic companies looking to move, and more and more people are shifting their focus to looking for entrepreneurs, people who have a history of imagining new ways of doing things. You might call them unicorns – rare and inspiring. This week we talk to one of them. Jud Bowman started his first successful company while he was still a student at the NC School of Science and Math. In the 18 years since, he's started two more. He's a self-proclaim serial entrepreneur, and Sift founder and CEO. Our conversation started out rocky, with what is probably the worst joke in First in Future history. But then we settled in to a good talk, where he imagined how Uber might help rural North Carolina, talked about why phone apps work, how Montessori unleashes the mind, the difference between STEM and STEAM. Oh…and violas.
This installment of First in Future is part of a special TV series produced in collaboration with UNC-TV, and recorded in UNC-TV's Legislative Studio in downtown Raleigh. Taped segments will air on the North Carolina Channel. Visit www.ncchannel.org/schedule/ for specific air dates. Watch the UNC-TV broadcast version via online streaming here!
Excerpts:  
"When you're 18, you don't know what isn't possible, and I think that by not knowing that – almost a naiveté – you're sort of plowing ahead."
On necessary skills for the future: "Everyone talks about STEM education, it's fundamentally important. But it's also got to be matched with creativity. Because when you think about AI and machine-learning…going back to the fear of the robots taking over the world, there are going to be things that those robots can't do, and it's the thinking outside the box and the creativity that's going to be impossible to program."
Book recommendations:  Titan by Ron Chernow and Andrew Carnegie by David Nasaw
What key issues should we be working on within the next couple of years to make North Carolina a better place?   We need to work on getting past issues that affect the perception of North Carolina (e.g., HB2, gerrymandering of congressional districts, etc.), issues that add to this perception of North Carolina as somewhat of a backwards state that is still rooted in its history of  tobacco and farming. We need to get past that mindset, because the state is so much better and farther ahead than that.
What do we need to focus on to be ready for the next 20 years?  Focus on extending the economic and growth successes we've had in our urban areas to our rural areas, while maintaining and celebrating their local assets and uniqueness.
Listen to the podcast: