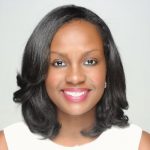 Summary:
If you are a nonprofit wondering how to raise money more effectively, this episode is for you. If you are a business trying to figure out how to get your employees more engaged in the community, this episode is for you. We're talking with Isa Watson, a Chapel Hill native who left the state to go to school, work for a chemical company and a corporation, and then came back. Now she heads up a company called Envested, a company based in Durham that aims to help people and companies connect to nonprofits in a meaningful way. We had a rich conversation about boomers and millennials, the intergenerational transfer of wealth, and which classical composer would be most likely to be successful as a tech entrepreneur.
This installment of First in Future is part of a special TV series produced in collaboration with UNC-TV, and recorded in UNC-TV's Legislative Studio in downtown Raleigh. Taped segments will air on the North Carolina Channel. Visit www.ncchannel.org/schedule/ for specific air dates. Watch the UNC-TV broadcast version via online streaming here!
Excerpts:  
"In addition to helping companies have a much more engaged workforce, we're trying to push more resources into our local communities where the nonprofits are largely underfunded."
"The idea of being able to give to what inspires you, being able to give to different things in a more frequent way – that is the way that people are giving now….But the entry point is volunteering, not necessarily giving."
Book recommendations:  Crossing the Chasm by Geoffrey Moore
What key issues should we be working on within the next couple of years to make North Carolina a better place?   Focus on growing economic entrepreneurial system and integrating into broader community.
What do we need to focus on to be ready for the next 20 years?   Jobs and skills alignment; preparing for demographic shift.
Next great North Carolinian to watch?  Creighton Blackwell, VP, Corporate Affairs, Coastal Federal Credit Union for his leadership and innovative ideas.
Listen to the podcast: