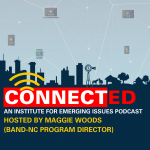 Summary: In this episode of the "Connected" podcast series, host Maggie Woods (IEI Policy and Program Manager and BAND-NC Program Director) speaks to Robert Hiett; Executive Director and Ben Farmer; Economic Development Planner for the Upper Coastal Plain Council of Governments .
IEI's "Connected" podcast series explores the challenges of the digital divide as well as opportunities for digital equity and inclusion in North Carolina and promising best practices.
Find this on Apple Podcasts, Amazon Music, iHeart Radio, and TuneIn+Alexa.
Listen to the podcast: