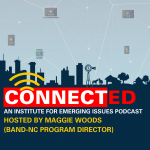 Summary: In this episode of the "Connected" podcast series, host Maggie Woods (IEI Policy and Program Manager and BAND-NC Program Director) speaks to Amy Huffman; Policy Director, National Digital Inclusion Alliance.
IEI's "Connected" podcast series explores the challenges of the digital divide as well as opportunities for digital equity and inclusion in North Carolina and promising best practices.
Find this on Apple Podcasts, Amazon Music, iHeart Radio, and TuneIn+Alexa.
Listen to the podcast: