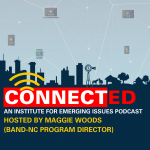 Summary: In this inaugural episode of the "Connected" podcast series, host Maggie Woods (IEI Policy and Program Manager and BAND-NC Program Director) speaks to Kenny Sherin (Randolph County Extension Director and the Broadband Access and Education Coordinator for NC Cooperative Extension) about Cooperative Extension's role in digital inclusion.
IEI's "Connected" podcast series explores the challenges of the digital divide as well as opportunities for digital equity and inclusion in North Carolina and promising best practices.
Gov. Cooper has declared Aug. 16-20, 2021, as Rural Broadband Week to highlight digital inclusion and innovation: https://governor.nc.gov/media/2705/open
Find us on Apple Podcasts, Spotify, Google Podcasts, Amazon Music, iHeartRadio, TuneIn + Alexa and Pocket Casts.
Listen to the podcast: