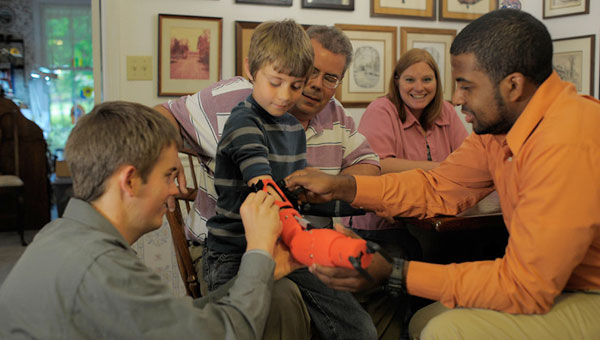 Image Courtesy of Fast Company
In our focus on Generation Z, IEI has been working with many of you to highlight positive trends in otherwise troubling predictions of the economic prospects for people like Daniel and the two college dream makers. Some of the most encouraging trends we have found are connected to the promise of a new generation of manufacturing sweeping across the sector.
Consider this: two biomedical engineering students at the Rose-Hulman Institute of Technology used Siemen's Solid Edge design and engineering software to create a prosthetic arm for Daniel as part of their school's capstone project. In ways unimaginable just a decade ago, such technologies and manufacturing partnerships now run rampant in many of today's institutions of higher education. Aspiring roboticists are seeking to change the way we live, work, play and fight wars through artificial intelligence; 3D printing has taken college classrooms by storm allowing art students to create mold models once reserved for technical professionals, and students in institutes of regenerative medicine are actually manufacturing organs for humans and animals.
New technologies create manufacturing opportunities not just for those who are learning. They are making their way into the hands of the masses, and creating exciting opportunities for this next generation of manufacturing.
As technologies move from campuses to the masses in companies and communities, they are creating, retaining and attracting jobs. North Carolina is now the fourth largest manufacturing state in the country, but there is plenty of room for well-positioned communities to improve their global market share of manufacturing powered by the digital economy.
Join us in February for the 28th annual Emerging Issues Forum, @Manufacturing Works. We will examine which state policies, local practices, and support organizations are important to this manufacturing revolution. We will also focus on how North Carolina attracts more members of Generation Z to this sector and how we ensure they are equipped with the skills needed to be successful.
Early bird registration for our 2013 Emerging Issues Forum, @Manufacturing Works, opens on Nov. 1. Come and take part in the effort to position our state's communities to lead in the next generation of manufacturing.
Anita