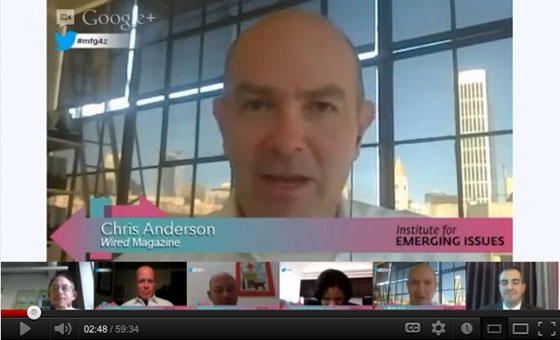 The Hangout echoed the voices of stakeholders from across our state who participated in our Manufacturing Working Group. The group looks to have manufacturers, students, educators, economic developers and state and local policymakers join in a cogent approach to advancing manufacturing in our state.
All of the buzz around manufacturing probably explains why seats are going so quickly for this year's Emerging Issues Forum, @Manufacturing Works. Early bird registration ends at the end of this month. If you have not already done so, I urge you to sign up today to participate in this discussion. We have lined up a great group of speakers and manufacturing exhibitors, and during the Forum on February 11-12, 2013 we will examine specific manufacturing opportunities in each of the state's economic regions.
Come hear leaders such as Chris Anderson, editor of Wired Magazine; Andrew Liveris, CEO of Dow Chemical; Jim Owens, former CEO of Catepillar and many, many more. They will share their expertise and offer thought-provoking ways to embrace this sector.  In turn, we will ask you to share how manufacturing is transforming your community.  Through our on site use of the Emerging Issues Commons, we will ask you to contribute, rate and rank ideas in real time. We want to leave the Forum with a plan of action! I look forward to seeing you in February. 
Happy Thanksgiving,
Anita 
Content table
Making it Cool: Gen Z Meets Manufacturing Google Hangout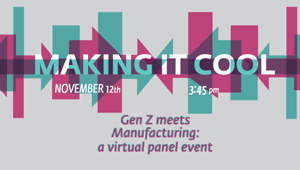 Didn't have a chance to watch our Google Hangout on how to attract Generation Z to manufacturing? Watch it now here.
Emerging Issues Commons Install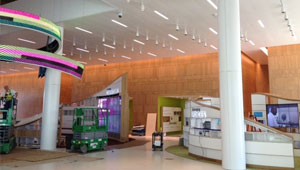 We've moved into our new space in the James B. Hunt, Jr. Library on Centennial Campus! Read this blog post from our interactive design firm, Second Story, and see pictures and videos from their latest content install of the Emerging Issues Commons.
Discovery Forum Recap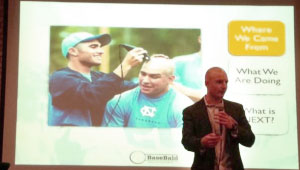 The second annual Discovery Forum was a great success! Click here to learn more about each of the speakers who presented, and visit our media twitter page to see more photos. Videos of the presenters will be available shortly!