First, Betty Owen served as executive director of the Emerging Issues Forum from 1987 through 2001. She single handedly planned and produced the signature event that for so many years has joined North Carolina citizens with local, state and national government, business leaders and higher education representatives to debate policies on jobs, trade, the economy, education and many other topics.
My imagination is insufficient to understand how Betty did it all, but my appreciation suffers from no such deficit. Because she helped the Forum to be all that it could be, the need for something bigger became apparent. Her work stands as the cornerstone to the founding of IEI in 2002.
Betty died unexpectedly on Friday, August 17, 2012, while on vacation at the coast of North Carolina with her family. I know she will be missed by those who knew the Forum in the early days and, thus, came to be Betty's fans and friends.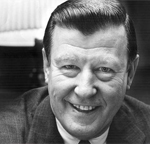 Second, John Grimes Medlin, Jr., an icon of North Carolina banking who guided Wachovia Corp. to national prominence as its fourth CEO, died on Thursday, June 7, 2012, while playing tennis. John was well regarded for growing Wachovia from a regional player to the 20th largest bank. I will remember him mostly, however, for the roles he played with IEI. A staunch advocate for modernizing North Carolina's tax system, John Medlin would call me from time to time to "check in" on IEI's work on fiscal reform. He was never bashful with advice or critique.
While his feedback was sometimes hard to hear, John believed in the capacity of IEI and he demonstrated his confidence by serving as a member of the Legacy in Action Campaign's Steering Committee. This group, which came together to help raise $20 million to support construction of the Emerging Issues Commons and subsequent programming, has been critical to bolstering IEI's credibility across the state. More than any other person's support, John Medlin's was key to our fundraising successes in Winston-Salem.
As Betty must be credited for setting up the formation of IEI, John must be credited for making the soon-to-be Emerging Issues Commons possible. For the rest of my life I will remember him standing up in a room and declaring (with handouts as evidence) that a generation of Winston-Salem civic leaders made the Research Triangle Park possible, and that today's generation must do the same for the Commons.
Both Betty and John propelled IEI and this state forward in their own, and very different, ways. We stand on the shoulders of these two giants. They will be missed.
Anita