Media Coverage
Check out some of IEI's great work featured in local, statewide and national media.

---
2016 FORUm: futurework
We're gearing up for our 31st Annual Emerging Issues Forum on February 8 and 9, 2016. Check out a sampling of coverage to explore the impact of automation and changing demographics on North Carolina's labor landscape.
---
innovatenc
We've received great media coverage throughout North Carolina for InnovateNC, a key 2015 Post-Forum initiative to expand our state's innovation strength.  We released the InnovateNC RFP on Monday, July 13, 2015, and announced the five communities selected for participation on Sept. 4.  Here's just a sampling of coverage:
---
2015 North carolina civic health index
IEI's 2015 North Carolina Civic Health Index report explores the critical link between civic health — the social and economic vitality that results when citizens interact productively with their neighbors, involve themselves in community institutions, and actively engage in public issues — and a brighter future for our state.  Here's a sampling of coverage related to the report:
We've received extraordinary media coverage of the 2015 Forum!  Here's just a sampling from national, state, and regional media.
Forum Day 1 (Monday, 2/9/15)
Forum Day 2 (Tuesday, 2/10/15)
---
2014 Forum: Teachers and the great economic debate
Watch these clips from Time Warner Cable News, our media sponsors, including behind the scenes interviews with Forum speakers.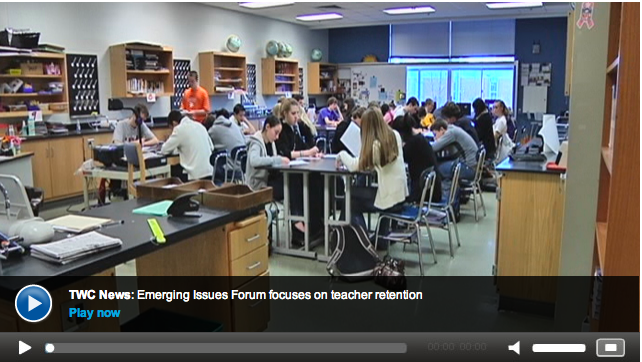 Capital Tonight: 2014 Emerging Issues Forum review
Capital Tonight: 2014 Emerging Issues Forum complete coverage of Monday
other

coverage
Take a moment to read a few of the 168 articles published about IEI and this year's Emerging Issues Forum and post-forum work.