FutureWork NCSU Student Focus Group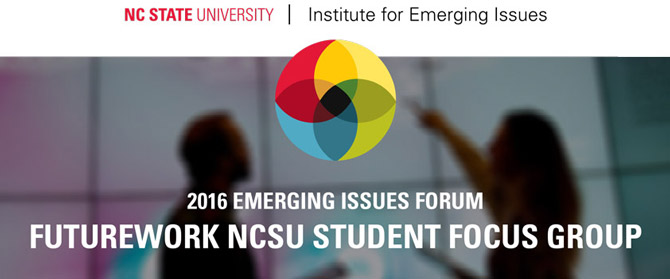 RAISE YOUR VOICE TO NC LEADERS!
Tuesday, October 6th at Talley Student Union

PIZZA AND SOFT DRINKS WILL BE SERVED
We seek enthusiastic early college, undergraduate, and graduate students, from all majors, to provide input on the best strategies to prepare our state to meet the needs of you, our future workforce. Your input will be delivered to a group of leading policy and industry professionals tasked with addressing our future challenges.
Many people agree that tomorrow's workplace and tomorrow's workers won't look anything like they do today, and traditional economic and workforce development approaches won't be enough to secure high-quality jobs and a thriving, globally competitive state economy. So, North Carolina needs a new conversation about future job creation.
WHAT: 2016 Emerging Issues Forum NCSU Student Focus Group
WHERE: Talley Student Union; Conference Room 5101
WHEN: Tuesday, October 6th from 7:00 – 8:30 PM
WHO: Early college, undergraduate, and graduate students
Pizza and soft drinks will be served
Questions? / More info: Contact Kendall Hageman (IEI Education Policy Manager) at kehagema@ncsu.edu