In the summer of 2017, we asked you what you thought was the biggest issue facing our state. You responded. We've narrowed your ideas down to three. Now we need your help moving them forward. Here are your top three NC Big Ideas:
Rebuilding Economic Ladders
Cities and counties across North Carolina have some of the nation's lowest rates of economic mobility — the ability of citizens to move up from one income level to another over the course of their lifetimes. In Wilson, for example, there is only a 3.2 percent chance that a citizen growing up in the lowest quintile will reach the highest income quintile as an adult. Research suggests there are social, community and fiscal strategies that work to increase mobility, but they require time, commitment and investment.
Bridging Rural and Urban
North Carolina's rural communities are facing challenges of aging workforces, infrastructure deficits, financial shortfalls and diseconomies of scale – overall, 41 percent of the state's municipalities lost population during the past six years, almost all in rural areas. State and local leaders are exploring a range of solutions to construct "rural-urban bridges" – from articulating commuting zones to cultivating regional expertise to talent retention strategies – that will strengthen human resources capacity and financial viability across North Carolina. We need to articulate and generate momentum for the best ideas.
Reconnecting to Community
North Carolina is more divided than ever. We are divided by politics, race, geography and income. Trust in each other and public institutions is waning (the Washington Post reports that only 31 percent of Americans say that "most people can be trusted"), and civic participation is falling. With communities and states across the U.S. looking for ways to bridge these divides and develop opportunities for more civic participation and dialogue, North Carolina has an opportunity to lead in developing solutions, which could increase our chance for success in addressing multiple other issues.
GET ENGAGED!

Are you involved in research or a program in one these topic areas? Do you live or work in a community that wants to address these topics? Do you have a general passion for the issue?
While only one of these topics will become the focus of the next Emerging Issues Forum, all are important and IEI is committed to working in each of these areas over the next several years. But we can't do this work alone. We rely on the expertise, interest, and desire for change from committed North Carolinians like you.
Click the "participate" button above to get engaged for North Carolina!
---
THANK YOU!
Submission PERIOD HAS NOW CLOSED. THANK YOU FOR SUBMITTING YOUR #NCBIGIDEA!
Follow #NCBigIdea for updates, and check back here at NCBigIdea.org.

---
#NCBIGIDEA BRACKET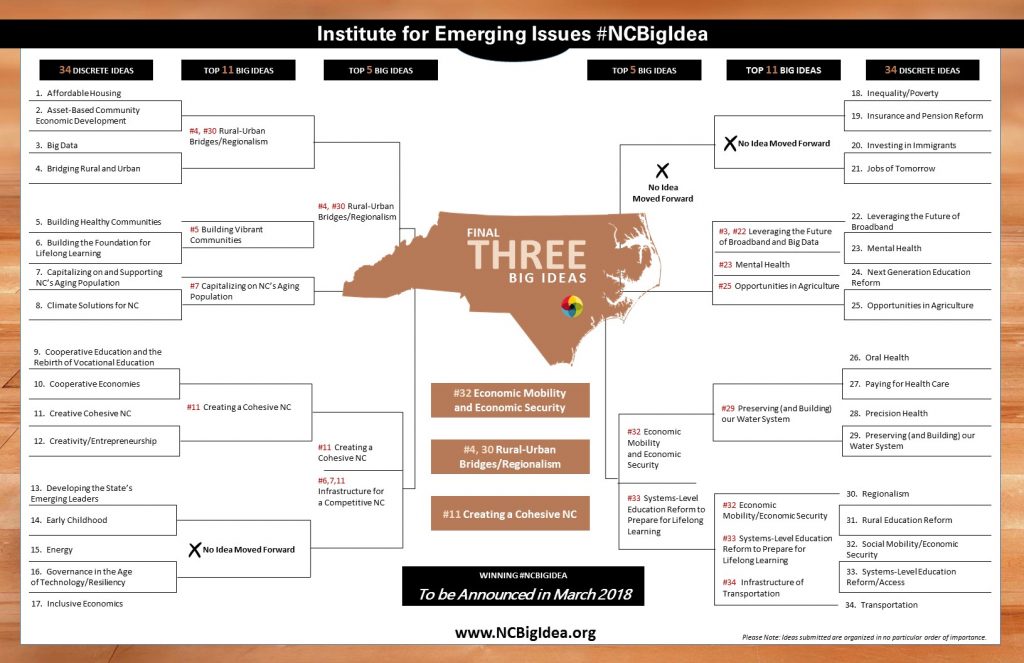 To make themes easier to digest, IEI staff first went through all of the 150+ submissions and identified 34 discrete ideas, then with input from IEI National Advisory Board Members and others, narrowed the pool down to 11, and then to five. A special review committee then narrowed the ideas down to a final three, which will be open for a public vote in March, 2018. To view the complete list of submitted "idea titles," click here (note that some titles have been modified for clarity). If you shared an idea, and do not see how your idea fits into those themes listed above, please email us at emergingissues@ncsu.edu.
---
WHAT'S NEXT?!
This winter, IEI will further research these three topics. Be sure to tune into IEI's podcast, First in Future, and subscribe to IEI's monthly digest for more information.
In March 2018, the NC public will hear more about the three ideas, and have the opportunity to vote — deciding which big idea will be featured as an upcoming Emerging Issues Forum topic (think March Madness meets the Bachelor, with one final Big Idea topic receiving the coveted rose).
Be sure to follow #NCBigIdea on Twitter, and check back here at www.NCBigIdea for continuous updates!
---
Submission Guidelines AND CRITERIA (THE FINE PRINT)
We wanted you to THINK BIG, to imagine a broad issue that North Carolinians can work on together that will improve our state economically in the long-term. We shared past topics to get your creative juices flowing, and shared the below general criteria for submitting big ideas:
1.  Generate curiosity and conversations by a broad group of people across the state
2.  Provide a platform for multiple perspectives on the topic
3.  Move participants toward agreement on actions, both locally and statewide
SubmissionS WERE TO INCLUDE:
A title for your big idea, not to exceed 100 characters
A brief description of your big idea, not to exceed 100 words. Be sure to mention the idea's:

Ability to generate middle ground
Relevance for multiple sectors, issues (e.g., health, education, built and natural environment, economy), and demographic groups
Already growing momentum or energy across the state

Your name, email, and phone number (in case we need to reach you)
Relevant links to more information from credible sources
Submission PERIOD HAS NOW CLOSED. THANK YOU FOR SUBMITTING YOUR #NCBIGIDEA!
Follow #NCBigIdea for updates, and check back here at NCBigIdea.org.
---
THE EVEN FINER Print (for you Policy wonks, geeks and competition junkies): CLICK HERE!
___________________________
For press inquiries, please contact Nan Sanseverino at nan_sanseverino@ncsu.edu. A media kit is available for download below.
Media Kit