Following the Leadership Retreat, IEI held five focus groups to learn about the unique infrastructure challenges facing varied communities statewide and to identify the assets available in each community as it addressed these challenges. At these focus groups, IEI heard that communities struggle with a declining tax base and therefore have insufficient revenues to pay for needed infrastructure projects. Participants also expressed concern over the ability of leadership to effectively address infrastructure challenges in a sustainable way.
Based on this feedback, IEI convened a working group that identified the most critical challenges for North Carolina to address if it is to build and maintain resilient physical infrastructure that is also sustainable. The working group determined several statements of direction that, if pursued, would put the state closer to achieving this goal.
These strategies were discussed in further detail at the 24th Annual Emerging Issues Forum in February 2009. A sold-out crowd of more than 1,100 business,
 government, higher education and nonprofit leaders filled the Raleigh Convention Center to hear speakers from across the state, the country and the world, discuss their views on how to build the good growth state.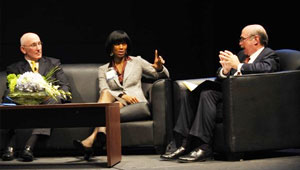 From the Forum emerged a clear call to focus on financing options to pay for the infrastructure our state and its communities will require in the years ahead. In partnership with UNC-TV and PBS's Blueprint America series, IEI convened two community forums to explore the infrastructure financing options available to local governments. Participants at these forums indicated public-private partnerships (PPPs) were the most important funding mechanism to explore as local governments seek to raise sufficient revenue to build and maintain critical infrastructure.
As a result of this feedback, IEI convened a Business Committee on Infrastructure (BCI) to further explore the use of PPPs in North Carolina. The BCI produced a set of guiding principles geared toward better facilitation of such partnerships. The central recommendation from the committee was that a Legislative Study Commission on PPPs should be established.