NC Creative Initiatives
IEI kicked off its work in creativity at a Leadership Retreat in Greensboro on May 19, 2009. At the retreat, participants from diverse professions and backgrounds helped IEI develop a guiding definition of creativity and several important points of emphasis for IEI's work going forward.
Content table
Necessity of high speed Internet access
Connections with mentors and other successful creative workers
Development of transportation networks that seamlessly connect economies across geographic areas
Venture capital for small business and entrepreneurs and accessible business services
Incentives for downtown development, and finally incubator spaces.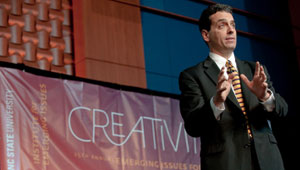 After learning about the state's creative assets and what public policies were needed to develop these assets, IEI convened a Working Group on Creativity in the fall of 2009 to identify four strategies that are critical if North Carolina is to thrive in a world where creativity is paramount. The four strategies identified were:  Foster Connectivity, Enhancing Education, Transfer Ideas to Market, and Cultivating Creative Assets.
These strategies were discussed in further detail at the 25th Annual Emerging Issues Forum in February 2010. More than 1,200 North Carolinians gathered at the Raleigh Convention Center to learn, to be inspired, and to act. Attendees learned how North Carolina could develop its network so to breed creative thinking – and action – to grow the jobs we so desperately need.
Since the Forum, IEI has led in person and online community conversations, given numerous presentations and generated a creativity progress report It is certain that North Carolina is excelling in making creativity a priority, but there is still work to be done.
*** DO NOT REMOVE THIS LINE. PLACE NEW CONTENT BELOW LINE ***