How will our companies and communities compete in a future of accelerating everything? Dive deeper into what makes innovation so important to North Carolina's future.
WHAT DID WE LEARN FROM OUR FOCUS GROUPS?
Click here to find out what we learned from our sector focus group, and click here to learn about what we heard from our community focus group. For a list of focus group attendees, click here.
THE AGENDA THAT STARTED IT ALL
We've come a long way since our first Emerging Issues Forum 30 years ago! Check out the agenda from the 1986 Forum.
NORTH CAROLINA CIVIC HEALTH INDEX
Check out the new North Carolina Civic Health Index
VIDEO: NORTH CAROLINA'S INNOVATION RECONSTRUCTION IMPERATIVE
Watch our new Innovation Reconstruction Imperative video
INFOGRAPHIC
Global flows of goods, information and people are accelerating. North Carolina's global integration is expanding. As technology drives change in how we live and do business, opportunities and risks abound. How is North Carolina's innovation ecosystem responding to keep pace?
For key insights, check out our 2015 Forum 
Infographic
.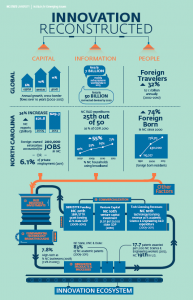 2015 EMERGING ISSUES FORUM ONE PAGER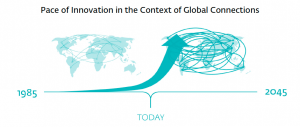 Why Innovation? Learn more about why this emerging issue should be your focus now.
OTHER RESOURCES
WANT TO SEE WHAT OUR STAFF IS READING?
IEI Director, Anita Brown-Graham, recommends:
Global Flows in a Digital Age
Assistant Director for Policy and Programs Pat Cronin recommends:
Why the Garden Club Couldn't Save Youngstown
Assistant Director for Strategy Joe Mosnier is reading:
Global Connections: UNC and the World

Environments Policy Manager Diane Cherry is reading:
How Smart, Connected Products Are Transforming Competition
Education Policy Manager Kendall Hageman recommends:
John P. Kotter's book: "Accelerate: Building Strategic Agility For a Faster Moving World"
Health Policy Manager Sarah Langer's research pick:
The Fluid Core: How Technology Is Creating a New Hierarchy of
Need, and How Smart Companies Are Responding
IEI's Emerging Leaders Fellow Daniel Brookshire is reading:
A Brief History of Failure