In a fun and competitive online world, children can earn points for real-world play. The company has developed an interactive website that is connected to the real world via an accelerometer kids wear on their wrists to track activity in exchange for points, gift cards, virtual goods and other online rewards. Sqord is currently participating in Carolina Launch Pad, a pre-commercial business accelerator for early-stage information technology startups from the UNC community and is preparing for their second round of pilots with several local youth organizations.
Emerging Issues for Future Leaders (EIFL) Program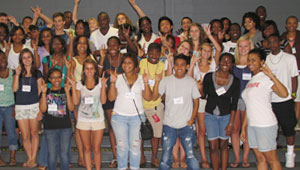 In June 2011, IEI partnered with the N.C. State University Office of the Provost to engage 50 promising high school students from five counties on healthcare issues in the EIFL Program. The group spent two and a half days learning how to access information about health challenges in their counties.
Using IEI's Raising the Bar county health tool, they explored the economic impact of poor health and identified and shared policy solutions to address these challenges.