Health Innovation Challenge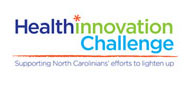 Blue Cross Blue Shield of North Carolina, in partnership with IEI and Bull/Queen City Forward, launched the Health Innovation Challenge, a statewide prize competition for entrepreneurs across N.C. to receive $20,000 and mentoring support to develop, implement, and scale high-impact ideas that aim to reduce obesity and support healthy lifestyles. More than sixty innovations were submitted by entrepreneurs seeking to demonstrate scalability, sustainability, feasibility and ability to improve health metrics. BCBSNC has the option to invest in the winning business idea or company to support them beyond the challenge.
Businesses as Leaders in Health
As a pilot, IEI is working with local businesses in one N.C. community to identify roles this sector can adopt to improve community health, thereby improving economic development. Through collective impact thinking, IEI will also help to build the capacity of other sectors within the community to partner with these businesses on a common health improvement agenda.