Raising the Bar County Health Tool
Having access to credible, unbiased information and understanding the connections between these pieces of data are critical for making smart policy decisions. As a result, IEI created Raising the Bar, a county health tool that explores the inter-linkages of health, environment, economic, and education on healthcare costs. At the 2011 Emerging Issues Forum, IEI released this interactive county-level tool to allow counties across the state to see how improvements in any one of these variables can improve health outcomes and save money. Based upon user feedback, the environment variable was changed from affordable housing to food insecurity in August 2011.
This tool has been used at several statewide events, including the N.C. Association of County Commissioner's 104thAnnual Conference on August 19, 2011. It has been shared in classrooms and other venues, such as with nursing students at East Carolina University. More than 1,500 individuals have accessed the tool through the IEI website since January 2011.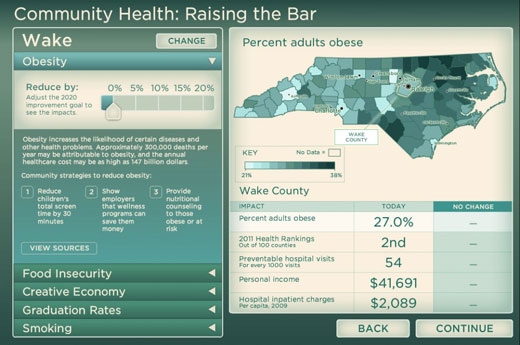 Learn more here.